INKS ON THIS PAGE
---


---
Aviation Foundation
of America, Inc.

121 5th Ave. N.W.
Suite 300
New Brighton, MN 55112


651-255-1999


A 501(c) (3) public charity


---

---

ARRIVAL:
Wednesday, September 24, beginning at approximately: 11:30 AM.

DEPARTURE:
Monday, September 08, beginning at approximately: 09:00 AM.
National Air Tour arrivals and departures will extend over a period of time, please see the comments below for more information. The schedule is weather and wind permitting - subject to change without notice.
Comments:
---
The National Air Tour is presently estimated to arrive Willow Run Airport between 2:00 and 3:00 p.m. on Wednesday September 24th. This is approximately 3-4 hours later than originally estimate due to severe thunderstorms along the route between Dayton, OH and Dearborn.

The National Air Tour will be based at the Yankee Air Museum, Willow Run Airport for it's departure on September 8th. The offical program will begin at 8:30 a.m. with departures beginning at 9:00 a.m. The event is FREE on Monday.

After departing from Willow Run Airport, the tour will fly around Ford World Headquarters as a salute to Edsel and Henry Ford and then "touch wheels" at Ford Airport (Detroit Proving Grounds) to begin the National Air Tour 2003.

The process will be repeated prior to landing at Willow Run upon our return (weather permitting) on September 24th. Arrivals on that day may extend over a period of approximately an hour and a forty-five minutes beginning with the approximate time shown.
---


* The red arrow on map indicates the airport
where the National Air Tour will arrive/depart.




NOAA
Weather
Forecast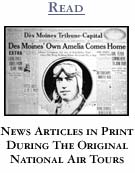 Local Sponsors
Thanks to our good friends at the Yankee Air Museum!
Our thanks go out to the wonderful people at the Yankee Air Museum (734-483-4030) "Where history flies," for hosting the departure and return of the National Air Tour at Willow Run airport. Additional details concerning this museum may be found by simply clicking on their web site here. The pilots and crew of the National Air Tour 2003 very much appreciate all the assistance being provided by the museum, the staff and volunteers!
< Back
---
---
ONE TWO

Read The Book Online


BUY A HARD COPY!
---