INKS ON THIS PAGE
---


---
Aviation Foundation
of America, Inc.

121 5th Ave. N.W.
Suite 300
New Brighton, MN 55112


651-255-1999


A 501(c) (3) public charity


---

---

ARRIVAL:
Tuesday, September 16, beginning at approximately: 10:00 AM.

DEPARTURE:
Tuesday, September 16, beginning at approximately: 12:00 PM.
National Air Tour arrivals and departures will extend over a period of time, please see the comments below for more information. The schedule is weather and wind permitting - subject to change without notice.
Comments:
---
The National Air Tour will arrive and depart from Memphis International Airport and will park near Wilson Air Center. Arrivals and departures may extend over a period of up to an hour and fifteen minutes beginning with the estimated times shown.
---


* The red arrow on map indicates the airport
where the National Air Tour will arrive/depart.




NOAA
Weather
Forecast

The National Air Tour last visited Memphis in 1927 and again in 1931. A July 1927 headline in The Commercial Appeal said of the Tour, "They Brought Commercial Aviation to Memphis"

The July 8, 1927article went on to say, "When the National Air Tour arrived in Memphis yesterday afternoon they demonstrated to Memphians the value of commercial aviation... Memphis is awakening to opportunities offered by the new era in passenger and freight transportation," they said.

Armstrong Field was the site of the 1927 National Air Tour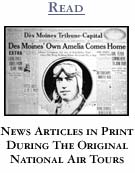 Local Sponsors
Wilson Air Center
The wonderful people at Wilson Air Center, voted America's #1 F.B.O., are hosting the historic visit of the National Air Tour 2003 to Memphis. We can't thank them enough!
Easten Aviation Fuels

Thanks for all of your support Eastern! The entire National Air Tour 2003 tips it's wings to you!
< Back
---
---
ONE TWO

Read The Book Online


BUY A HARD COPY!
---