INKS ON THIS PAGE
---


---
Aviation Foundation
of America, Inc.

121 5th Ave. N.W.
Suite 300
New Brighton, MN 55112


651-255-1999


A 501(c) (3) public charity


---

---


ARRIVAL:
Tuesday, September 16, beginning at approximately: 02:15 PM.

DEPARTURE:
Wednesday, September 17, beginning at approximately: 10:00 AM.
National Air Tour arrivals and departures will extend over a period of time, please see the comments below for more information. The schedule is weather and wind permitting - subject to change without notice.
Comments:
---
The National Air Tour will arrive and depart the Birmingham area from Bessemer Airport.

Since our first contact with the terrific people of Bessemer we have been very impressed. We would like to publicly thank the Bessemer Airport Authority for their outstanding hospitality.

A few years ago, one of the organizers of the National Air Tour 2003 made an unscheduled stop at the Bessemer airport. He found the people exceptionally friendly and the city to be truly great place. When it came time to select an airport for the 2003 tour, we chose Bessemer -- a wise choice once again!

Thanks to each and every one of you!

Please note that arrivals may extend over a period of up to three hours beginning with the estimated time shown.
---


* The red arrow on map indicates the airport
where the National Air Tour will arrive/depart.




NOAA
Weather
Forecast

Birmingham hosted the Natioanl Air Tour on July 11, 1931

The 1931 National Air Tourists were treated to lunch in the Birmingham Municipal Airport dining room. Following their luncheon and an afternoon of flying, the Chamber of Commerce and the city of Birmingham hosted an informal dinner at the Birmingham Press Club on the roof of the Bankhead Hotel.

Newspaper headlines from The Birmingham News touted the arrival of the Champion Spark Plug Company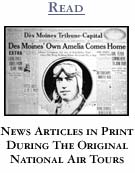 Local Sponsors
Bessemer is a Great Place!

The National Air Tour 2003 loves Bessember -- you will too!
< Back
---
---
ONE TWO

Read The Book Online


BUY A HARD COPY!
---