INKS ON THIS PAGE
---


---
Aviation Foundation
of America, Inc.

121 5th Ave. N.W.
Suite 300
New Brighton, MN 55112


651-255-1999


A 501(c) (3) public charity


---

---

ARRIVAL:
Saturday, September 20, beginning at approximately: 02:00 PM.

DEPARTURE:
Saturday, September 20, beginning at approximately: 02:30 PM.
National Air Tour arrivals and departures will extend over a period of time, please see the comments below for more information. The schedule is weather and wind permitting - subject to change without notice.
Comments:
---
On the afternoon of Saturday, September 20th the National Air Tour 2003 will fly over the Wright Brothers National Memorial. This is entirely weather and conditions permitting.



Weather permitting, the more than 25 rare vintage aircraft of the National Air Tour 2003 will land at the park's First Flight Airstrip and be displayed in a circle around the base of Big Kill Devil Hill. The National Air Tour's visit to the birthplace of flight is part of a 17-day, 4,000-mile journey to celebrate the Golden Age of Aviation and the Centennial of Flight by re-creating the original Tours that were held from 1925 through 1931.



Their vintage aircraft filling the skies above the Wright Memorial, the National Air Tour aircraft will depart from Dare County Airport on the afternoon of September 20, conforming to the TFR (temporary flight restriction) presently in place due to hurricane Isabel.
---


* The red arrow on map indicates the airport
where the National Air Tour will arrive/depart.




NOAA
Weather
Forecast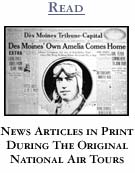 < Back
---
---
ONE TWO

Read The Book Online


BUY A HARD COPY!
---