INKS ON THIS PAGE
---


---
Aviation Foundation
of America, Inc.

121 5th Ave. N.W.
Suite 300
New Brighton, MN 55112


651-255-1999


A 501(c) (3) public charity


---

---


ARRIVAL:
Tuesday, September 23, beginning at approximately: 10:30 AM.

DEPARTURE:
Tuesday, September 23, beginning at approximately: 12:30 PM.
National Air Tour arrivals and departures will extend over a period of time, please see the comments below for more information. The schedule is weather and wind permitting - subject to change without notice.
Comments:
---
The National Air Tour schedule for Pittsburgh has been moved back to the morning of Tuesday, September 23rd due to adverse weather conditions along the route of flight on Monday. We anticipate arrival in Pittsburgh approximately 10:30 a.m. Tuesday with departures beginning approximately between noon and 12:30 p.m.
---


* The red arrow on map indicates the airport
where the National Air Tour will arrive/depart.




NOAA
Weather
Forecast

The National Air Tour landed in Pittsburgh in the summer of 1927 and again in 1931.

It was July 2, 1927 at 1:00 o'clock when the National Air Tour landed at Rodgers Field. Several of the pilots on the 1927 Tour were sponsored by local clubs including the Mercater Club and the Harvard Club of Western Pennsylvania. A committee of the Pittsburgh Association of Credit men gave a dinner at the Nixon Hotel for Tour pilot Frank Hawks and his wife. Other pilots ate an informal dinner at Hotel Schenley and enjoyed a theater party at Duquesne Garden. Local took particular interest in talking with E.W. Cleveland who was from Bridgeville. Cleveland was flying a WACO bi-plane.

An estimated 5,000 people witnessed the 1931National Air Tour visit to Rodgers Field. One of the "hits" of the visit was a Bellanca aircraft powered by a Packard Diesel engine and flown by Walter E. Lees. Lees and Frederick Brossy had just established a worlds record non-refueling endurance flight of 84 hours and 33 minutes. Local George "Speed" Dickson, a resident of Pittsburgh was given a standing ovation at the field.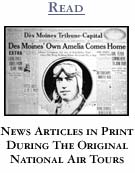 ---

Pittsburgh Flight Training Center

These are a great group of folks who are excited about the tour coming to Allegheny County Airport!

Web site: http://www.pghflight.com/


Aero Club of Pittsburgh

The Aero Club of Pittsburgh, founded 1909, oldest Aero Club in US, "brought the Ford Reliability Air Tour to Pittsburgh" according to their records.

Web site: http://www.aeroclubpgh.org/



< Back
---
---
ONE TWO

Read The Book Online


BUY A HARD COPY!
---