INKS ON THIS PAGE
---


---
Aviation Foundation
of America, Inc.

121 5th Ave. N.W.
Suite 300
New Brighton, MN 55112


651-255-1999


A 501(c) (3) public charity


---

---


ARRIVAL:
Monday, September 08, beginning at approximately: 12:45 PM.

DEPARTURE:
Tuesday, September 09, beginning at approximately: 10:00 AM.
National Air Tour arrivals and departures will extend over a period of time, please see the comments below for more information. The schedule is weather and wind permitting - subject to change without notice.
Comments:
---
*Possible one hour delay due to Fog in Detroit*

We will be landing at the Lansing Municipal Airport. Aircraft will be parked near the main airport enterance. Arrivals may extend over a period of up to two hours.
---


* The red arrow on map indicates the airport
where the National Air Tour will arrive/depart.




NOAA
Weather
Forecast

Chicagoland was visited by five National Air Tours; 1925, 1926, 1928, 1929 and 1930. Here are a few fun facts about past tour visits: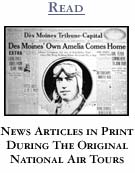 < Back
---
---
ONE TWO

Read The Book Online


BUY A HARD COPY!
---